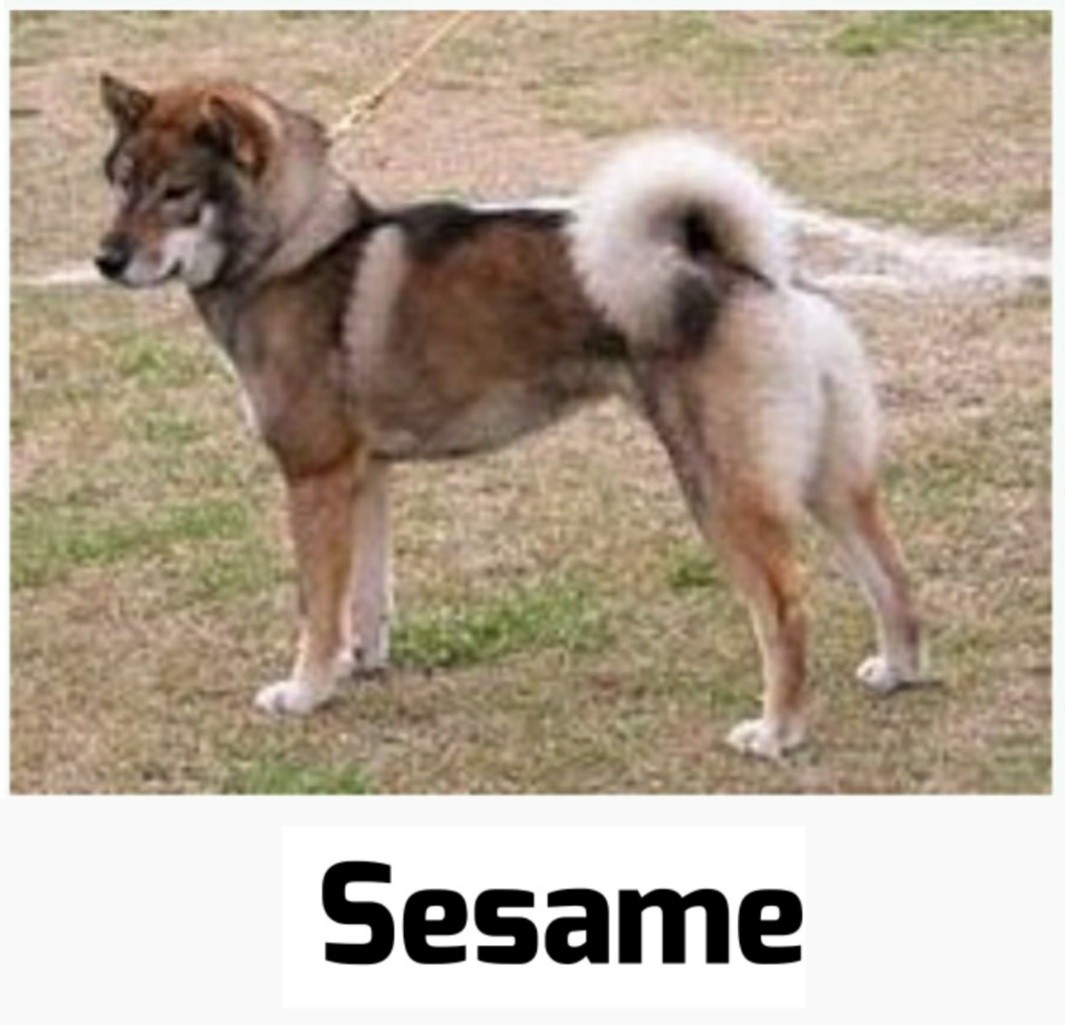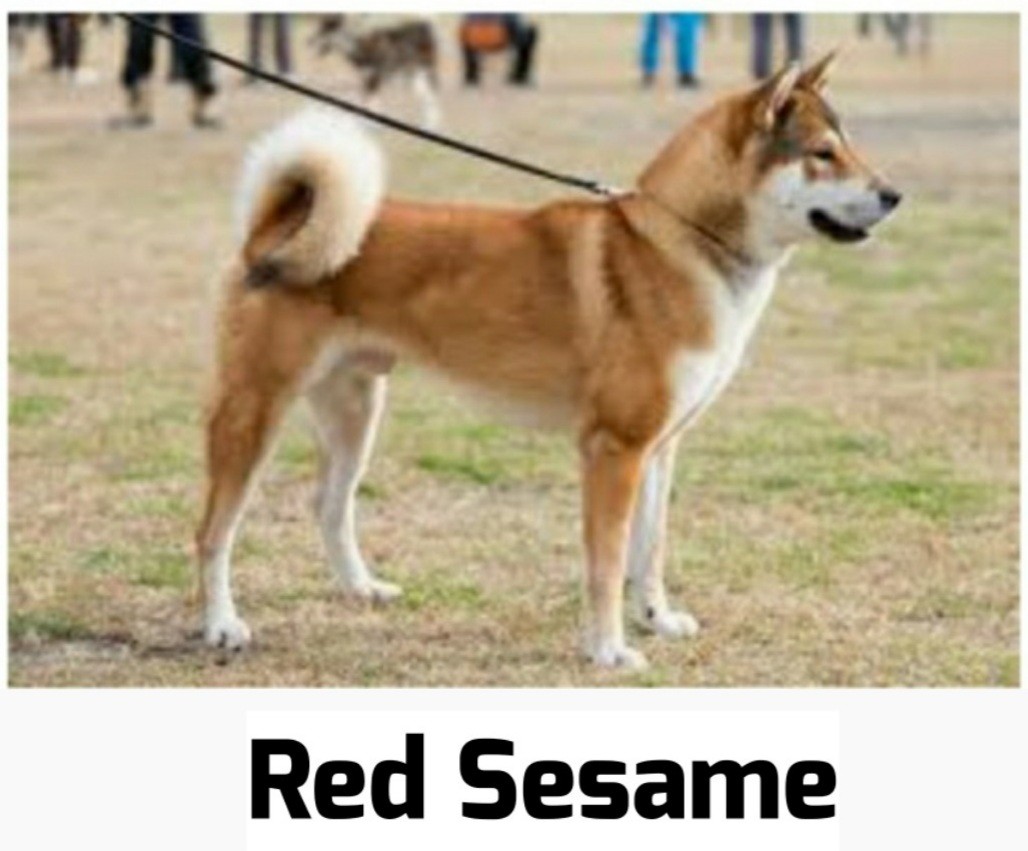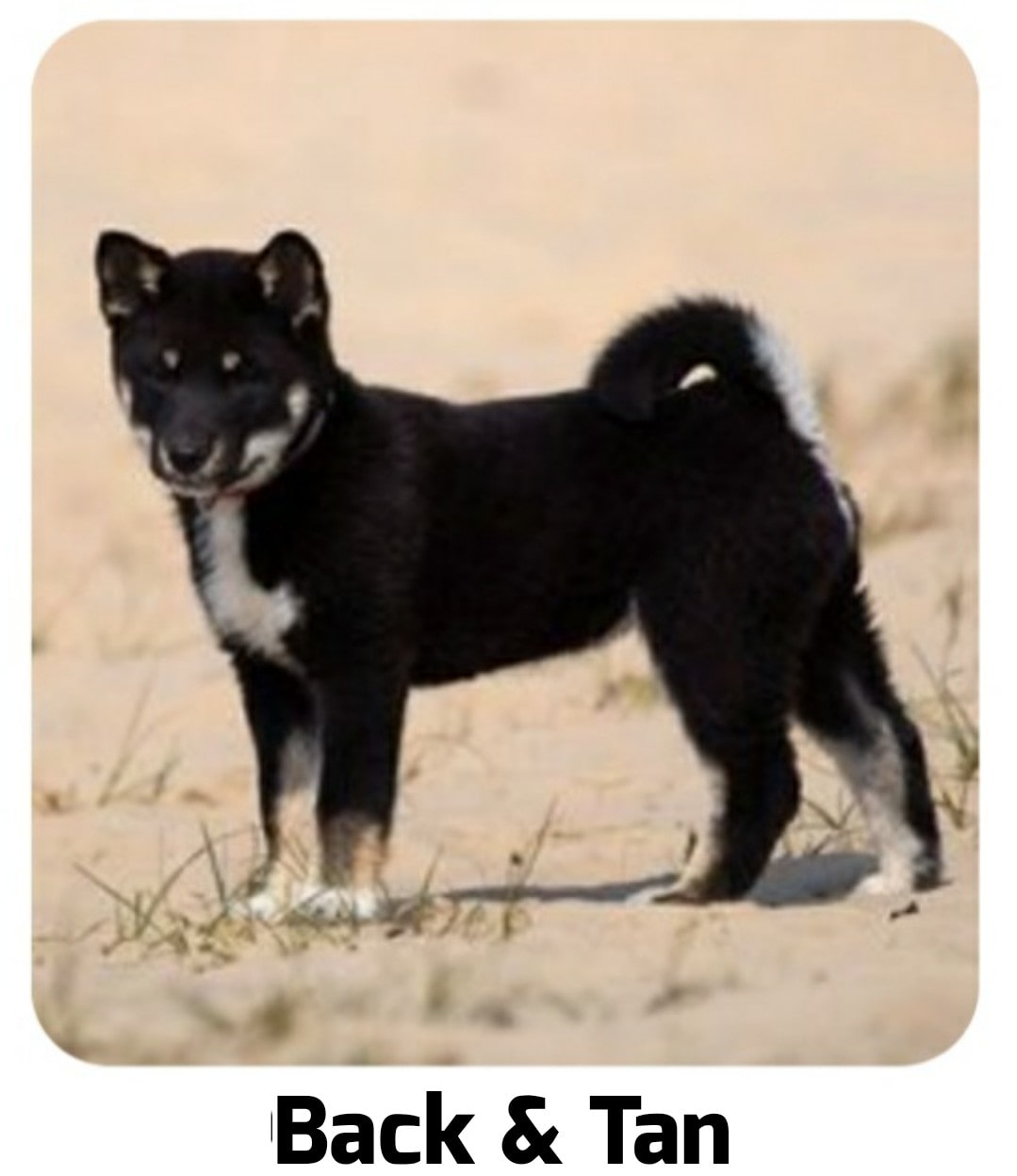 A Historical Japanese Treasured
and Natural Living Monument
.
History :
The Shikoku is also known as the Kochi-ken ("ken" means dog in Japanese). Similar in the Spitz type look to the smaller Shiba Inu and larger Akita Inu, the Shikoku is considered a Medium sized breed. They are a very rare breed and less common than Shiba. Shikoku are rare even in Japan. In 1937, the Shikoku was established as one of Japan's national treasures by Nihon Ken Hozonkai (NIPPO-Japanese Dog Preservation Society-Japan). Shikokus are some of the purest dog breeds due to the remote nature of the region, which greatly restricted crossbreeding . This is because they were in the mounatinous region in the fairly isolated Kochi prefecture on the island of Shikoku. The Japanese bred the Shikoku to hunt large game, mostly wild boar, but sometimes deer as well. They are excellent at tracking, athletic and agile dogs making them reputable big game hunters. The Shikoku have the trait of showing admirable courage and tenacity facing dangerous game and moments later being calm and affectionate in the home with family. They were developed by the Matagi (hunters in Japan that remained true to acient traditions) as they preserved the foundation lines of these medium sized dogs in ancient Japan.
Characteristics:
The Shikoku Ken is described as: "A medium-sized dog with well balanced and well developed clean cut muscles. It has pricked ears and a curled or sickle tail. Conformation : strong, well-boned and compact" Shikoku tend to run in the range of 17-22 inches at the shoulder, 35-50 lbs as adults, with males being larger and slightly more square in build and females longer in appearance. Like the Shiba, the Shikoku is a dymorphic breed, meaning the male and female should present differently. Especially in the face. NIPPO Judges in Japan state that you should be able to look into the face of the breed and tell immediately if it is a male or female. This is even more important, due to the fact that it can be common that many female Shikoku look "doggy" in the face these days (doggy means like a male and not femine). This needs to be seen as a serious flaw in the ring and needs to be an area of concern in preserving the dymophic trait of the Shikoku.
Breed Personality & Temperament
:
Devotion and Skill Almost wolf-like in appearance, the sharp featured Shikoku has been compared to a Samurai. The path of the warrior is said to be one of honor, emphasizing duty to one's master, and loyalty and devotion until death, two virtues the Shikoku exhibits. The Shikoku Ken is a loyal companion and they always want to me around their owner. They are more eager to please it's owner than some of the other Nihon Ken (Shiba and Akita), but it is still an independant thinker and at times some dogs in some situations (around game) will ignore commands. This trait is individual to each dog and owner and reflects training or the dog's specific personality, but in general the Shikoku have a higher desire to please the master making them easier to train than the more known "cat-like" Shiba. The Shikoku have a higher prey drive and are more alert than other Nihon Ken breeds (Shiba & Akita). They bark less than Shiba and only if something is wrong do they bark. Theses traits make them wonderful watch dogs, but they are not natural guard dogs or protection dogs. However, the close bond with their family and their keen alertless leads us to believe a Shikoku will stand it's ground and put themselves between their owners and any threat. Even when calmly laying on the ground Shiba and Shikoku will place themselves between their people and the entrance. When meeting strangers in public they are either aloof or shy to the extreme of overly excited and affectionate and early socialization with impact those traits.
Socializing with Other Dogs:
Shikoku can be territorial. While capable of being social with other dogs, some can want to be the 'boss' which can come across as rude of obtuse in their interactions. When playing with other dogs, the Shikoku's playing style can be quite rough. This is even obvious early on in the whelping box, a reflection of their tenacity. That hunting tanacity may appear as the breed not reading cues from the other dog that they've had enough, but the Shikoku just doesn't care and keeps playing or teasing the other dog. Socializing Shikoku puppies young is vital in the breed and like other breeds will decrease any chances of dog aggression. It is a misconception and incorrectly sometimes stated that Shikoku are 'dog aggressive. This is incorrect information and dog agression is NOT a breed trait. At times many Shikoku play with other dogs in the home by taunting them relentlessly. They are tenacious with plenty of endurance and those skills helped them do their job. The Shikoku's role was to 'run down' or tire out the game. They would harrass the Boar and trigger them to charge them off, then right on it's heels as the Boar retreated the Shikoku was barking at it again relentlessly. This back and forth would continue until the Boar was tired enough for the hunter to safely approach and shoot (back then with a bow & arrow). This hunting style and roll was different than Shiba and Akita, which were used to corner or surround the game, holding it (without contact) for the hunter to shoot. Expecting a Shikoku to change this trait would be asking this ancient breed to go back in time thousands of years. Combining this breed with other dogs means play sessions should be supervised and managed to avoid any misunderstandings. In addition, an owner needs to consider the individual personalities of any dogs already in the home, before adding a Shikoku to their pack.
Colors and Markings:
There are four comonly seen coat colors, though not all accepted in the standard, nor do NIPPO breeders in Japan refer to the colors by these names, but these are what terms are commonly used in the U.S. and Europe in accordance to the standards; Goma (Sesame), Aka (Red), Kuro Goma (Black Sesame) and Kuro (Black) a.k.a. Black and Tan). There are three types of Goma (Sesame) ; kuro-goma (more black than light colored hairs), aka-goma (red base with black hairs mixed in), and shiro-goma (white base with black hairs mixed in). Shiro (white) is not desireable in the Shikoku and is penalized heavily in the conformation ring. For many years black (black and tan) was not popular with many breeders leading to the misconception that it is not desirable; this is false. Although black is not very popular in the show ring, many experienced Shikoku breeders in Japan will breed black Shikoku (especially males) to maintain darker colors (genetic pigment) to maintain darker colors and thicker coats in their bloodlines. All Shikoku should have "urajiro" which are markings of a white or cream color presented on the ventral portions of the body, legs, cheeks and brow (eye dots) of the head. In the U.S. the most common colors seen are referred to as Red Sesame and Black Sesame. The variation between the two colors can sometimes be referred to as just Sesame (although not by NIPPO-Breeders in Japan).
Exercise:
As a reflection of the job they are bred to do, the Shikoku are more active and athletic than some of the other Nihon Ken breeds (like the couch potato Shibas). Shikoku are happiest with 2 to 3 walks a day equaling about 1 hour of excercise total. Mental stimulation is just as important to minimize any mischief they may get into. Shikoku enjoy hiking, camping, playing in the snow and in excell in sports like Fast Cat/Lure Coursing, Barn Hunt and Agility.
Recognition and Numbers:
As of today (April/22) the Shikoku status in the U.S. is AKC-FSS. That means they are not fully accepted in the AKC, but are a recognized breed and on their way to be fully accepted. Many criteria have to be met in order for a breed to be fully recognized by AKC. One of the largest challenges is to get 150-300 registered in the U.S. with AKC. They are growing in numbers and popularity. To give one an idea, back in 2015 there were only10 registered with AKC. Today there are 120! In seven short years that is a huge gain in numbers. Once they are within the 150 -300 range, AKC will move them into the miscellanious class. Once that is acheived they will finalize other steps for the Shikoku to be fully recognized.
Health:
A Shikoku's life exectancy is 12-15 years. A generally healthy breed, the Shikoku has been known to suffer from hip dysplasia, seizures (most commonly idiopathic epilepsy). It is generally accepted that overall hip scores are lower compared to other breeds. Hips can be tested, but there are no tests for epilepsy. The frequency in which seizures occure varies greatly and can be identified in certain bloodlines. It is vital for breeders to work with pet owners and identify the blood lines that epilepsy occures and remove these dogs from their breeding programs.
Grooming:
Compared to other breeds, Shikoku are relitively low maintenance. The double coat is water and dirt resistant with the thick coat keeping dirt from penetrating to the skin. Twice a year they will shed 'blow coat' over a 3 week period. Frequent brushing and a weekly bath (or one bath after 3 weeks) will loosen the remainder of shedding coat.
Lifestyle:
The Shikoku is an ideal companion for people who lead active, outdoor lives and will be content and calm indoors if enough exercise in given. It must be remembered that as a primitive working/hunting dog, the Shikoku has high prey drive and as a result is not reliable off-leash. A secre yard of good size to run and play is a must.
Good with Children:
As with many other breeds of dogs, Shikoku are wonderful with children. A sweet tempurament, early socialization and exposure is needed in addition that children always be kind and respectful to the dog. Shikoku can and do make wonderful family pets.
Training:
Positive and frequent early socialization is imperative in raising a polite and well-adjusted Shikoku. Training this breed is not always easy, they are intelligent, biddable (desire to please) but also independent thinkers. Shikoku require short training sessions and positive reinforcement always. While possessing a strong personality, harsh corrections will cause the Shikoku to be depressed and may even 'shut down' and stop listening to you altogether.
dedication to preservation
I go to great extents to preserve these beautiful and in the case of Shikoku very rare breeds. It is very important that dog owners research any breed to be sure it is the right fit for their lifestyle and family. As a Reputable Breeder NONE of the dogs I breed will ever end up in a shelter. I strictly screen my clients to find ideal homes.